Tokyo taxi advertising for 2021.
Tokyo taxi advertising is appropriate with the olympics coming up, there is a particular type of taxi offering door wraps for the occasion.
Contact us with your RFP's or about taxi advertising in most cities in Japan.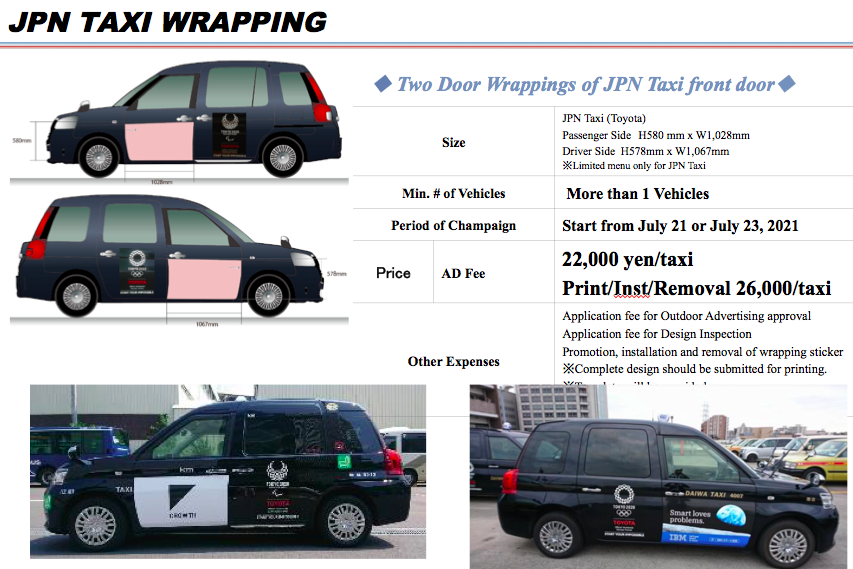 Tokyo taxi ads – the why
Taxicab Doorside Advertising: Unlocking High-View Opportunities for Your Brand

In today's hyper-competitive marketplace, brands are constantly seeking innovative ways to maximize their visibility and engage with their target audience. One often overlooked but highly effective method is taxicab doorside advertising. Plastered on the sides of these iconic urban vehicles, these ads offer numerous advantages, including high views, extensive reach, exposure to diverse demographics, and prime positioning in hot areas. We will delve into the key benefits of taxicab doorside advertising and explore why it remains a powerful promotional tool for brands.
High Views and Increased Exposure:
One of the most significant advantages of advertising on taxicab doorsides is the exceptional visibility they provide. Taxis traverse busy urban streets, ensuring your brand message is seen by thousands of pedestrians, motorists, and commuters each day. These eye-catching mobile billboards capture attention and deliver your message to a vast audience, amplifying your brand's exposure beyond the confines of traditional static advertising.
Diverse Demographics and Targeted Audience:
Taxicabs navigate through bustling city centers, making them an excellent medium for reaching diverse demographics. Whether it's professionals commuting to work, tourists exploring new destinations, or local residents running errands, taxicab ads are seen by a broad spectrum of individuals from varying age groups, professions, and backgrounds. This diversity allows for effective brand communication and ensures that your message resonates with a wide range of potential customers.
Prime Positioning in Hot Areas:
Taxicabs frequently operate in high-traffic areas, including business districts, shopping centers, tourist attractions, and transportation hubs. By advertising on doorsides, your brand gains strategic placement in these hot zones, where footfall is high, and consumer engagement is at its peak. This ensures that your message is prominently displayed in the areas where your target audience is most likely to spend their time, maximizing the impact of your advertising efforts.
Constant Brand Exposure:
Unlike other advertising mediums that rely on fixed locations or specific time slots, taxicabs are constantly on the move, exposing your brand to a larger audience throughout the day. This dynamic nature allows for repeated exposure, increasing brand recall and reinforcing your message in the minds of consumers. The constant presence of taxicab ads ensures that your brand remains top of mind and stands out in a cluttered advertising landscape.
Cost-Effective Solution:
Taxicab doorside advertising offers a cost-effective alternative to traditional outdoor advertising channels. Compared to billboards or stationary signage, taxicab ads provide similar exposure but at a fraction of the cost. This affordability allows small and medium-sized businesses to compete with larger brands and establish a strong market presence without exhausting their marketing budget.
Measurable Impact and Campaign Flexibility:
Digital technology enables effective tracking and measurement of the impact of taxicab advertising campaigns. By employing tracking mechanisms such as unique URLs or QR codes, brands can gauge the success of their campaigns and adjust their strategies accordingly. Moreover, taxicab advertising offers flexibility in terms of campaign duration and geographic targeting, allowing brands to customize their approach based on specific marketing goals and budget considerations.
Conclusion:
Taxicab doorside advertising remains a powerful and advantageous marketing tool for brands seeking to increase visibility, expand their reach, and engage with diverse audiences. With high views, exposure in hot areas, constant brand exposure, cost-effectiveness, and measurable impact, this dynamic medium offers a unique opportunity to make a lasting impression on potential customers. By harnessing the mobility and strategic positioning of taxicabs, brands can unlock the door to new marketing possibilities and drive their success to new heights.