1. Shinkansen bullet train advertising panels
Shinkansen bullet train advertising In-train panels are situation to the right and left of doors inside seating areas.
Size: B2 Signs appeal to first class/executive riders. Visible directly in front of the seated passengers Size dim Placed on in Green cars,
1 month application submission deadline artwork: 20 days beforehand.
522 sheets/panels (A2 size) Estimate per month: 6,510,000(incl tax) Production: 2,882,250
2. Shinkansen deck corridor panels
Visible to those that board, go to restroom, and change cars through corridor. Term is min. 2 months: Estimated costs:
"A" set 774 sheets 2,835,000
"B" set 887 2,772,000
"C" set 1213 4,263,000
"D" set 318 735,000
"E" set 623 2,352,000
"F" set 895 3,612,000
Period #2 is June to July period
Period#2 is August to September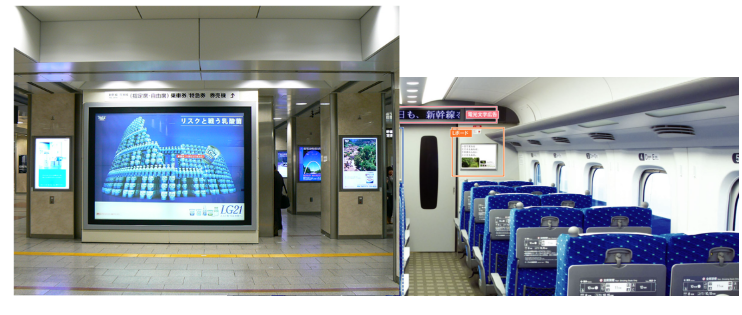 3. Shinkansen bullet train advertising in the Green car magazine
Target is mainly Green cars "Hitotoki Magazine" ;
Travel oriented publication. Published monthly "Wedge" :
Published on the 20th of the month Inquire about other publications that are distributed at stations from Tokyo to Osaka

4. Shinkansen GREEN CAR media (first class) Ticker
Green Car N700 series train
700 series series 300
64 character ads
News and advertising ticker
N700 series trains: 8 colors avail.
Signs appeal to first class/executive riders.
Visible directly in front of the seated passengers
6 months term 6 times/day
Includes 1 page in Hitotoki magazine, a green car magazine
1 year term: 6x (700/300series trains) Ticker plus Hitotoki magazine: 12 munites 38,682,000 yen incl tax
6 months 6X , Ticker + Hitotoki magazine 6 minutes 14,836,500Yen incl tax
JR tokai 700/500/300 trains, Tokai N700 trains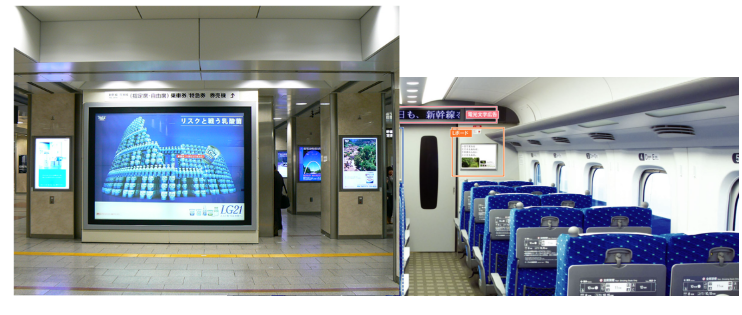 5. Shinkansen platform and stations
Shinkansen stations have static and digital signage before and after the ticket gates.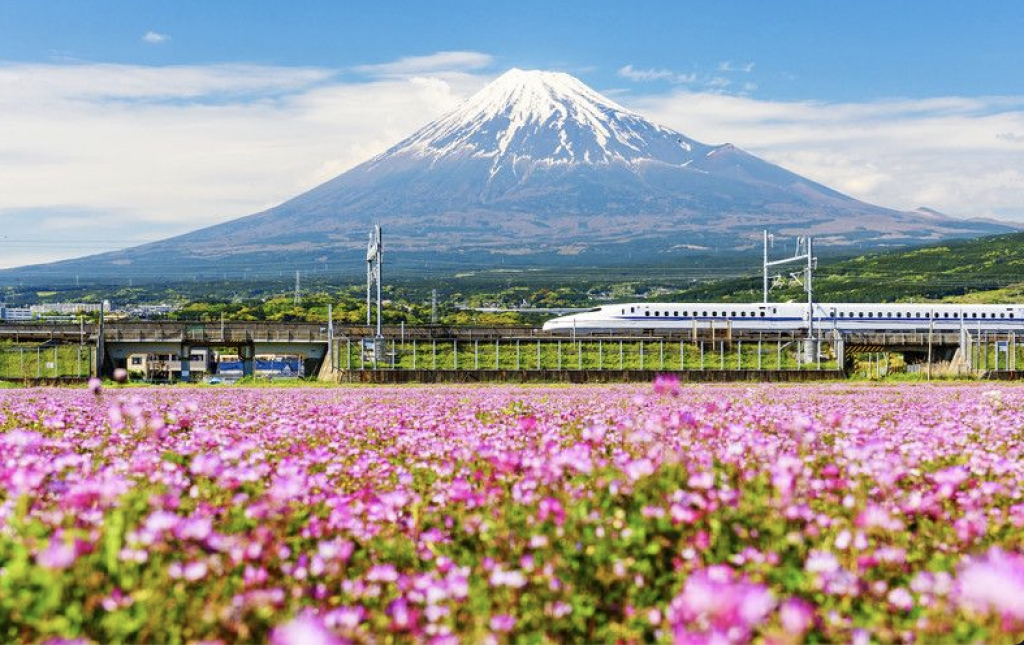 Unlocking the Advantage of Advertising Inside Japan's Shinkansen Trains: Exceptional Reach, Prolonged View Times, and Lasting Impressions
When it comes to advertising, few platforms can match the unique advantages and effectiveness offered by Japan's Shinkansen trains. These high-speed bullet trains provide an extraordinary opportunity for businesses to connect with diverse audiences, including business professionals and discerning consumers. Here will explore why ads inside Shinkansen trains are special, highlighting their prolonged view times, the wide range of individuals they reach, the lasting impressions they leave, and why investing in this medium is truly worthwhile.
Prolonged View Times: Shinkansen trains are known for their exceptional speed, comfort, and reliability. Passengers typically spend considerable time onboard during their journeys, providing ample opportunity for advertisers to captivate their attention. Unlike other forms of advertising that may only receive a few seconds of attention, ads inside Shinkansen trains benefit from the extended duration of these journeys, ensuring that viewers have a significant amount of time to absorb and engage with the advertisement's message.
Diverse Audience: Shinkansen trains attract a wide range of individuals, making them an ideal platform for businesses seeking to reach diverse consumer segments. These trains serve not only business professionals commuting between major cities but also leisure travelers exploring Japan's cultural and scenic wonders. The audience includes executives, entrepreneurs, tourists, families, and more. With such a diverse passenger mix, advertisers can effectively showcase their products or services to a broad spectrum of potential customers, regardless of income levels or backgrounds.
High-income Business Professionals: Shinkansen trains are particularly popular among business professionals, including corporate executives and decision-makers. These individuals often hold considerable purchasing power and are more likely to engage with advertisements that align with their professional interests and aspirations. By strategically placing ads inside Shinkansen trains, businesses can directly target this lucrative segment of the market and establish a strong brand presence among key decision-makers.
Lasting Impressions: The immersive environment inside Shinkansen trains, coupled with the prolonged view times, allows advertisements to make a lasting impression on passengers. The tranquil and comfortable ambiance of these trains creates a conducive atmosphere for focused attention, enabling advertisements to resonate deeply with viewers. As passengers continue their journeys, the impact of the advertisement remains fresh in their minds, increasing the likelihood of brand recall and subsequent action.
Worthwhile Investment: While advertising inside Shinkansen trains represents a significant investment, it offers substantial returns. The extended view times, coupled with the captive audience, ensures a high level of exposure and engagement with the advertisement. Moreover, the prestige associated with the Shinkansen brand elevates the perception of advertised products or services, generating a sense of trust and credibility among consumers. When considering the broad reach, prolonged engagement, and positive brand association, the investment in advertising inside Shinkansen trains proves to be highly worthwhile for businesses aiming to enhance their market presence.
Conclusion:
Advertising inside Japan's Shinkansen trains presents an exceptional opportunity for businesses to connect with diverse audiences and make a lasting impact. The prolonged view times, coupled with the captive audience, ensure that advertisements receive significant attention and engagement. With a diverse mix of business professionals and consumers onboard, advertisers can effectively target various market segments and elevate their brand recognition. The prestige associated with the Shinkansen brand enhances the credibility of advertised products or services, increasing the likelihood of customer trust and subsequent action. Ultimately, investing in ads inside Shinkansen trains offers an unparalleled platform to reach, engage, and leave a lasting impression on a wide range of individuals, making it a valuable and worthwhile endeavor for businesses seeking to maximize their advertising.