Osaka billboard ad agency planning, Osaka and Kansai-wide media sourcing.
Osaka billboard ad agency planning & services by SovereignAd, specializing in OOH / outdoor ad spaces, offering a array of options such as billboards, rooftop signage displays. Employ our full spectrum ad planning beginning with a Request for Proposal.
Send your brief to get info on availability of static signs around the city.
Osaka billboard ad agency planning reaching local and other options in the Kansai and other major markets. A media planner and buyer specialist for Japan-APAC region since 2007.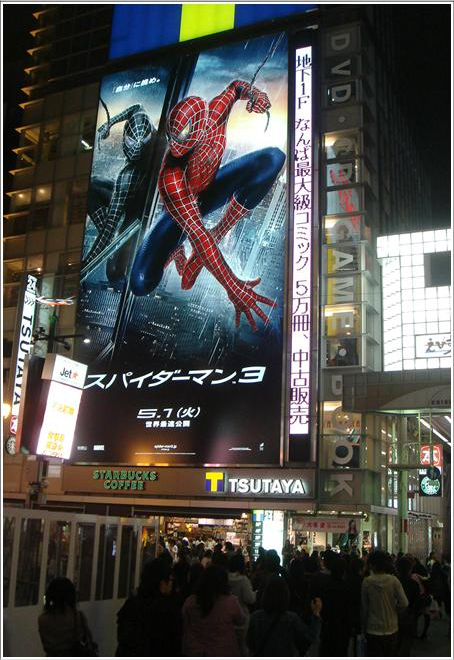 Osaka+Japan Media Coverage:
Japan billboard ad agency for: …. Out of home / OOH
Billboards
Walls / wraps
Dotonbori, Umeda, Shinsaibashi
Nakai express train / Namba station
Rooftop static
Rooftop neon
NE´X Narita Express train from airport to city
Digital out of home DOOH
All Japan airports – Narita – Haneda – Kansai – Chubu – Hokkaido – Kobe
Mall
Taxi cab
Train station
In Train ad spaces
Magazines
Newspapers
TV and cable channels nationwide
Other media – Inquire
Prime billboard rooftop real estate on the Osaka skyline is the crown jewel of branding. Ask for these special opportunities to secure true icon ad space which makes your brand a household name in key areas of Osaka such as:
Namba,
Shinsaibashi,
Dotonbori,
Umeda,
Shin Osaka,
Honmachi,
Yodobayashi and others.
Sample types of space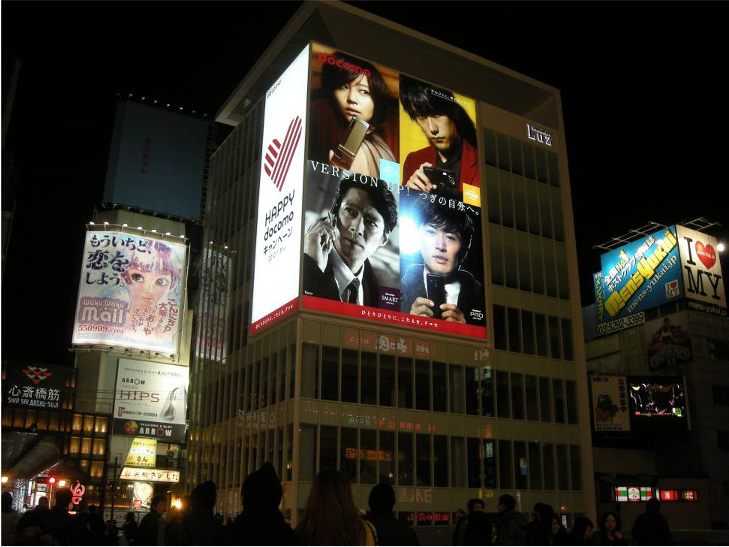 Osaka billboard ad agency buying/planning to maximizing Brand Awareness: The Power of Billboard and Rooftop space in Osaka's Key Areas
Creating maximum brand awareness requires impactful advertising mediums, and few match the effectiveness of strategically placed billboards and rooftops. In Osaka, key areas like Namba, Shinsaibashi, Dotonbori, Umeda, Shin Osaka, Honmachi, and Yodobayashi are prime locations for advertisers seeking widespread brand recognition. Let's explore how advertising on billboards and rooftops in these areas yields exceptional results.
High Foot Traffic: These bustling areas attract numerous locals and tourists daily. Namba's shopping district, Shinsaibashi's retail hub, and Dotonbori's vibrant entertainment scene witness constant pedestrian flow. Placing billboards and rooftop ads in these locations reaches a diverse audience and leaves a lasting impression.
Tourist Attractions: These areas draw tourists with iconic landmarks and cultural hotspots like Dotonbori's Glico Running Man and Umeda's shopping complexes. By positioning billboards and rooftop ads near these attractions, advertisers tap into the vast tourist market and gain global brand exposure.
Shopping and Entertainment Centers: Namba, Shinsaibashi, and Umeda are vibrant shopping and entertainment districts. These areas feature department stores, boutiques, cinemas, and theaters, appealing to consumers with diverse interests. Advertising in these commercial hubs aligns brands with the excitement of shopping and entertainment, forging an emotional connection and driving brand recognition.
Transportation Hubs: Osaka's key areas serve as major transportation hubs, with busy train stations and subway terminals. Shin Osaka, Honmachi, and Yodobayashi experience heavy commuter traffic. Placing billboards and rooftop ads near these hubs captures a captive audience during daily commutes, boosting brand exposure and recognition.
Skyline Dominance: Billboards and rooftop ads command attention from a distance, dominating the city's skyline. They reach people on the ground as well as those in high-rise buildings. This expansive reach heightens brand awareness and recall.
In conclusion, advertising on billboards and rooftops in Namba, Shinsaibashi, Dotonbori, Umeda, Shin Osaka, Honmachi, and Yodobayashi maximizes brand power in Osaka. By capitalizing on high foot traffic, targeting tourists and locals, aligning with shopping and entertainment centers, leveraging transportation hubs, and dominating the skyline, advertisers generate exceptional brand recognition and establish a strong presence in the minds of their target audience.
Our company coverage:
Whether you are a local agency or a brand seeking OOH planning services in Japan or in Osaka, our company brings 16 years of expertise to the table. At Sovereign Ad, we offer a comprehensive solution, allowing you to consolidate your advertising needs under one roof with a single brief. This streamlined approach eliminates the complexities of engaging with multiple local agents who may have limited English proficiency and regional connections. As your billboard ad agency in Osaka, we are readily available to provide you with a wide range of advertising choices.
Our company offers an extensive selection of advertising spaces throughout Japan, including OOH, indoor, transit, airport, and digital formats. We meticulously plan your media buy, incorporating various formats such as billboards, wall displays, kiosks, digital signage, as well as advertising opportunities at major airports like Narita, Haneda; Kansai and Chubu. Additionally, we cover metro subway lines, shopping malls, taxi ads, and prominent central business districts (CBD) such as Tokyo Station, Marunouchi, Otemachi, Dotonbori, Shinjuku, Ikebukuro, and Ginza areas. Notably, we have a strong presence at the iconic Shibuya Crossing, featuring numerous digital signs alongside static billboards and some unique rooftop placements. Our expertise extends to providing nationwide coverage and more.
Inquire to get started on your Osaka or Kansai advertising campaign.
---