Shibuya outdoor digital billboard company- Offering standard or digital top billboards in tokyo´s hot hot intersection.
Shibuya outdoor digital billboard company planning specializing in OOH spaces at a THE intersection in Japan.
Send us your request for Proposal (RFP) to start…
Out of home specialists for Japan + Asia
Call now +81-506-8673-553
Shibuya outdoor digital billboard company– planning and buying provided with wide reaching options at the intersection as well as Japan and other Asia major markets. A media planner and buyer specialist for Japan since 2007. If you have a multi city Japan OOH request, send us the whole brief.
Shibuya outdoor digital billboard company along with national ad format coverage:
Billboards
Wall
Rooftop static
Rooftop neon
NE´X Narita Express train from airport to city > <
Train wrapping
KIX Kansai airport express train- The Nankai Express + Namba station
Digital out of home DOOH
All Japan airports – Narita – Haneda – Kansai – Chubu – Hokkaido – Kobe – Chitose –
Mall
Taxi cab
Train station
In Train ad spaces
Bullet train and Shinkansen stations
Hotspots– Shibuya crossing, Dotonbori, Kyoto Kawaramchi, Shinjuku, Harajuku, Ikebukuro, nightlife, Tokyo CBD-Otemachi, Tokyo station, Ginza, Omotesando hills and Aoyama fashion zones
Magazines
Professional ad design advice for max impact
Newspapers
TV and cable channels nationwide
Other – Inquire
Shibuya crossing signs – A symbol of impact .
Ads on digital or static billboards in Shibuya have high circulation numbers and deliver that extra effect for campaigns. Call us for a free consult on what to go for…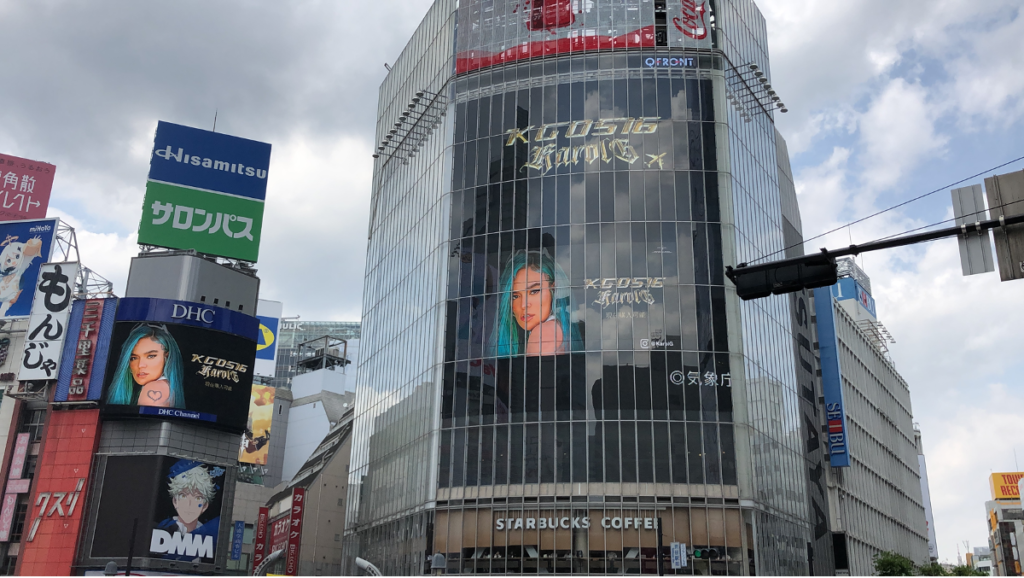 The Tokyo Shibuya Crossing: Extra ad effects.
Situated in the bustling metropolis of Tokyo, the Shibuya Crossing stands as a dynamic and emblematic intersection famously called the "Scramble Crossing." With its lively pedestrian traffic and vibrant atmosphere, it has become a sought-after location for advertisers to harness the power of billboards. We will explore the reasons why advertising at the Tokyo Shibuya Crossing delivers a remarkable impact for brands, captures exceptional attention, attracts a substantial number of potential viewers, and proves to be a savvy investment for enhancing brand awareness in Japan.
Captivating Attention:
The Tokyo Shibuya Crossing is renowned for its impressive size and lively ambiance. Each day, countless individuals, including both locals and tourists, traverse this intersection, creating a captivating visual spectacle. By strategically securing ad space in this high-traffic area, brands can effectively seize the attention of a vast and diverse audience. The sheer grandeur of the Shibuya Crossing ensures that billboards will be impossible to overlook, generating an awe-inspiring and attention-grabbing effect.
Massive Daily Footfall:
The popularity and central location of the Shibuya Crossing guarantee a significant influx of potential viewers for advertisements. On an average day, an estimated 2.8 million pedestrians pass through this intersection, offering an unparalleled opportunity for brands to reach an extensive and diverse audience. This high footfall translates into an increased likelihood of ad visibility, providing maximum exposure for brands and their messages.
Cultural Significance and Trendsetting:
Shibuya is not only a commercial hub but also a cultural epicenter within Tokyo. It is renowned for its cutting-edge fashion, technological advancements, and youthful vibe. By associating their brands with the Shibuya Crossing, advertisers can tap into this cultural significance and position themselves as trendsetters. This association allows brands to elevate their image, appeal to younger demographics, and strengthen their position in the Japanese market.
Social Media Amplification:
In the era of social media, a strategically placed advertisement can generate significant organic coverage. The iconic status of the Tokyo Shibuya Crossing makes it a magnet for both tourists and locals, who capture and share photographs and videos of the bustling intersection. By featuring billboards in these visuals, brands gain additional exposure as the content spreads across various online platforms. This amplification effect enhances brand visibility and engagement, extending the impact of the advertising campaign beyond the physical boundaries of the location.
Investment in Brand Awareness:
Advertising at the Tokyo Shibuya Crossing presents a unique opportunity for brands aiming to enhance their visibility and expand their market share in Japan. With the potential to reach hundreds of thousands of viewers daily, the Shibuya Crossing offers an effective avenue for maximizing brand exposure. The diverse audience and cultural significance associated with this location ensure that brands can effectively target their desired demographics. By investing in this high-impact advertising strategy, brands can elevate their brand awareness and establish a strong presence in the dynamic Japanese market.
The Tokyo Shibuya Crossing provides an exceptional platform for brands to create a remarkable impact, capture attention, and reach an extensive number of potential viewers. By leveraging the cultural significance and vibrant ambiance of this iconic location, advertisers can propel their brand awareness in Japan. With the added advantage of social media amplification, the influence of billboards at the Shibuya Crossing transcends physical boundaries, generating widespread visibility and engagement. Investing in advertising at the Tokyo Shibuya Crossing represents a strategic move that yields substantial benefits for brands, making it an investment to drive brand boost and foster meaningful connections in one of the world's most dynamic markets. JAPAN!
SovereignAd reach:
Whether you are a local agency or a brand in search of out-of-home (OOH) planning services in Japan and the surrounding area, Sovereign Ad, our advertising agency, brings over 16 years of unparalleled expertise to the table. When you think of regional media planning professionals, our name emerges as a synonym for excellence and innovation. We provide a comprehensive solution that allows you to consolidate all your advertising needs in one place, with a single brief. This streamlined approach eliminates the complexities of dealing with multiple local agents, some of whom may have limited English skills and regional connections. As the leading billboard ad agency in Japan, we are at your service, ready to offer you an extensive range of advertising options.
Our company boasts a HUGE selection of advertising spaces across Japan, encompassing various formats such as OOH, indoor, transit, airport, and digital. We will strategize your media buy, seamlessly incorporating different formats like billboards, wall displays, kiosks, digital signage, and prime advertising opportunities at major airports, furthermore, our coverage extends to metro subway lines, shopping malls, taxi ads, and prominent central business districts (CBDs) including Tokyo Station, Marunouchi, Otemachi, Dotonbori, Shinjuku, Ikebukuro, and Ginza. Additionally, we hold a access presence at the iconic Shibuya Crossing, featuring a variety of digital signs alongside static billboards and unique rooftop placements. Our expertise knows no boundaries as we provide nationwide coverage and beyond.
Although our specialization lies in out-of-home advertising, we also offer comprehensive print and radio advertising solutions. Our team consists of native English speakers with extensive experience in the international advertising business in Japan and the surrounding region, ensuring effective and seamless communication throughout the process. To facilitate local payments, we provide a range of payment options through major international currency exchange facilities, allowing you to transact effortlessly in your preferred local currency.
---