Kpop square digital led billboard @ Seoul COEX
Seoul´s largest LED billboard at SM TOWN.
Kpop square digital led billboard is bookable at Sovereign Ad. The LED is the hottest DOOH item now in Korea. Top brands from around the world seek out this frequently sold out media.
Kpop square digital led billboard features 3D ability
How to book Kpop 3D billboard:
1 month minimum, no exceptions. Do not ask for 1 day or one week as these will be ignored.
Lead time for bookings is 5 weeks in advance from the time you decide to book. Any requests to book faster will not be considered.
Pre pay 100% 2 weeks minimum before start date. We take USD, HKD, GBP, EUR, SGD.
Sign is typically booked out 2 to 5 months in advance from the present time, so plan well in advance, inquire for availability.
Creative ads require censorship approval and the the process takes 2 weeks. If a revision is requested of you, more time will be needed to revise and resubmit for approval. Plan in advance. Revisions could delay your start date.
Send us a RFP form submission in order to get a quote. Rates swing swiftly for this unit due to supply and demands.
Contact us:
Creative style samples and spec sheet on the Kpop square digital led billboard: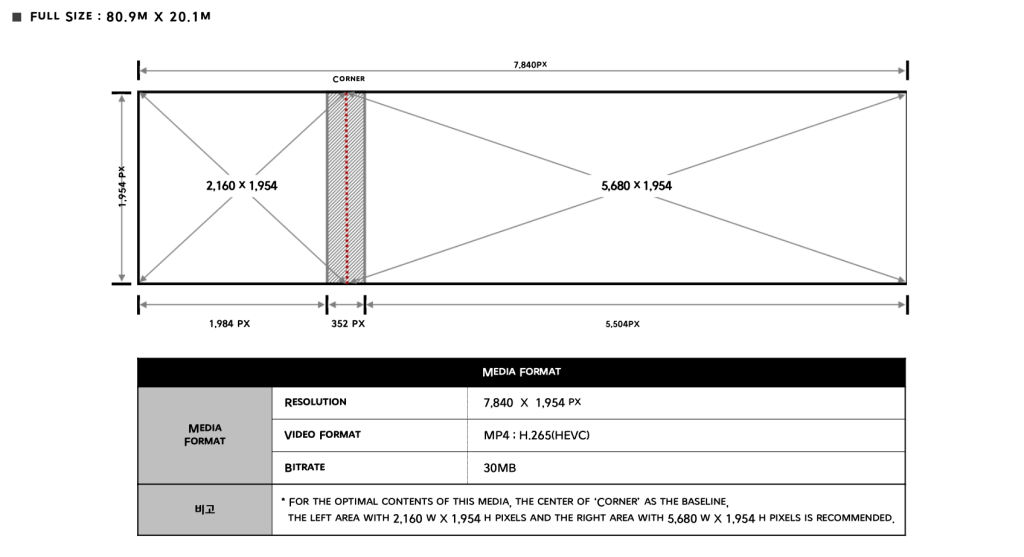 DATA
Source
Period
Subway passenger
at Samsung subway Station 2,051,557
T-Money
Mar. 2020
(1 Month)
Bus passenger near
Samsung subway Station. 509,138
T-Money
Mar. 2020
(1 Month)
Floating vehicle near
Samsung subway station. 1,926,505
Seoul city transportation
Mar. 2020
(1 Month)
Impact and impressions of billboards at COEX
SMTOWN and COEX Mall: The Epitome of Prominence and Impact in Seoul, Korea
Seoul, the vibrant capital of South Korea, is a city known for its cutting-edge technology, booming entertainment industry, and bustling commercial centers. Among its many iconic landmarks, SMTOWN and COEX Mall stand out as prime examples of prominence, attracting hordes of visitors and captivating audiences with their high-impact advertisements. Here, we will delve into why this area is a hotspot for busy crowds, the significance of its advertisements, and the extended media coverage it garners for its awe-inspiring billboards.
A Prominent Hub
Located in the heart of Seoul's Gangnam District, SMTOWN and COEX Mall represent a convergence of K-pop culture, entertainment, shopping, and business. SMTOWN, a global entertainment brand under SM Entertainment, is dedicated to promoting Korean pop music and its associated artists. COEX Mall, adjacent to SMTOWN, is one of Asia's largest underground shopping malls, offering a vast array of luxury brands, restaurants, and entertainment options. This unique combination of attractions draws in a diverse range of visitors, including locals, tourists, K-pop enthusiasts, and fashionistas.
The Power of High-Visibility Advertisements
SMTOWN and COEX Mall enjoy immense foot traffic, making them an ideal location for advertisers to display their messages. The bustling atmosphere, coupled with the vast number of people passing through, ensures that advertisements receive maximum exposure. As visitors navigate through the mall or wait in line for SMTOWN attractions, their attention is naturally drawn to the strategically placed billboards and digital displays that adorn the area. This heightened visibility guarantees that ads in this prime location reach a broad audience, creating significant impact for brands and businesses.
Prestige and Impact
The area surrounding SMTOWN and COEX Mall has become synonymous with prestige in advertising circles. Being associated with K-pop and entertainment, and situated in the upscale Gangnam District, ads displayed here carry a certain cachet. Brands that choose to showcase their products or services in this location are seen as aligning themselves with the glamour, talent, and success that K-pop represents. This association amplifies the impact of the advertisements, elevating the perceived value and desirability of the featured brands.
Extended Media Coverage
The billboards in the SMTOWN and COEX Mall area receive extended media coverage, with their mere presence being considered cool and trendsetting. The vibrant and eye-catching displays become focal points for photographers, influencers, and media outlets looking to capture the essence of Seoul's dynamic atmosphere. As images and videos of the billboards are shared on social media platforms, they become viral sensations, attracting attention and interest far beyond the physical boundaries of the ads itself. This extended media coverage amplifies the exposure of brands and ads, generating additional buzz and reinforcing their impact through downline ripple effect.
Conclusion
SMTOWN and COEX Mall in Seoul, Korea, stand as shining examples of prominence, bustling crowds, and high-impact advertisements. The convergence of K-pop culture, shopping, and entertainment creates an atmosphere that captivates visitors from around the world. Ads in this area hold maximum prestige and impact, aligning themselves with the global influence of K-pop and the luxurious reputation of Gangnam. Billboards in this prime location receive extended coverage, becoming symbols of coolness and trends. The SMTOWN and COEX Mall area is undeniably a powerhouse for advertising, ensuring brands and businesses achieve unparalleled visibility and resonance in the vibrant heart of Seoul.