Japan OOH ad agency services- Countrywide media sourcing – One stop shop Ad agency.
Japan OOH ad agency works by SovereignAd- specializing in OOH ad spaces, offering the entire spectrum of Japan outdoor media options such as billboards, digital LED displays, airports, buses, train stations, taxis, and shopping malls throughout Japan. Our comprehensive full spectrum ad planning approach covers the entire country and begins with a Request for Proposal (RFP).
Brief us, we will take care of the rest
Japan OOH ad agency services provided with wide reaching options in the Japan and other Asia major markets. A media planner and buyer specialist for Japan/APAC region since 2007. If you have a multi city OOH request, send us the whole brief. We offer most formats for all of Asia yet offering 59 countries worldwide.
Japan OOH Coverage:
Billboards
Wall
Rooftop static
Rooftop neon
NE´X Narita Express train from airport to city > <
Train wrapping
KIX Kansai airport express train- The Nankai Express + Namba station
Digital out of home DOOH
All Japan airports – Narita – Haneda – Kansai – Chubu – Hokkaido – Kobe – Chitose –
Mall
Taxi cab
Train station
In Train ad spaces
Bullet train and Shinkansen stations
Hotspots– Shibuya crossing, Dotonbori, Kyoto Kawaramchi, Shinjuku, Harajuku, Ikebukuro, nightlife, Tokyo CBD-Otemachi, Tokyo station, Ginza, Omotesando hills and Aoyama fashion zones
Magazines
Professional ad design advice for max impact
Newspapers
TV and cable channels nationwide
Other – Inquire
Tokyo Rooftop billboards – The ultimate trophy.
Paramount billboard rooftop properties represent the epitome of brand impression. Inquire about these exclusive prospects to establish authentic iconic advertising domains that bestow upon your brand an eminent status recognized by all households in Nippon!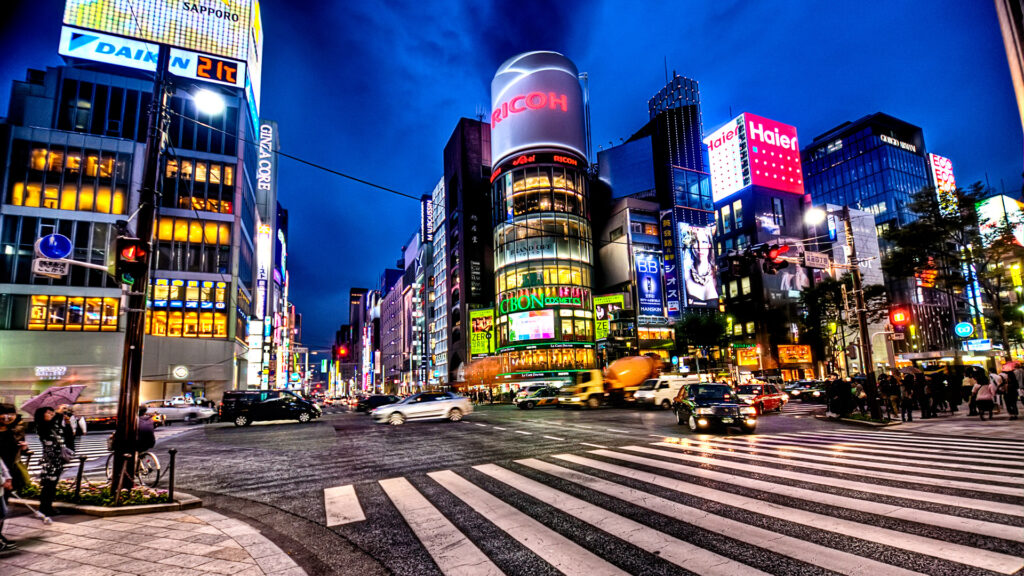 Tokyo rooftop billboards are unequivocally remarkable, capturing the essence of architectural ingenuity while serving as captivating canvases for corporate branding. These elevated advertising platforms have attained a coveted status, desired fervently by corporations aiming to leave an indelible mark on the public consciousness.
What sets Tokyo rooftop billboards apart is their ability to enchant and awe-inspire the public eye. Perched atop towering edifices, these billboards possess an unmatched vantage point, commanding attention from passersby and onlookers alike. Bathed in the vibrant glow of the city lights, they create an ethereal ambiance that elevates the advertisement itself to a work of art.
The allure of Tokyo rooftop billboards lies in their ability to captivate a vast audience. Nestled within the bustling metropolis, these billboards become a focal point for both residents and tourists, capturing the collective imagination and sparking conversations. Their larger-than-life presence and strategic placement in prominent locations ensure maximum visibility, guaranteeing that the message they convey reaches a broad spectrum of individuals.
For corporations, securing a Tokyo rooftop billboard is akin to acquiring a trophy! These spaces offer unparalleled exposure and prestige, transforming brands into household names. By occupying these prime advertising real estate, corporations can leverage the mesmerizing appeal of Tokyo's skyline, imprinting their identity upon the collective memory of the city and solidifying their position as industry leaders.
In conclusion, Tokyo rooftop billboards possess a unique blend of allure and desirability, enchanting and captivating the viewer who falls in love. They stand as testaments to the power of effective advertising, casting an enchanting spell upon the urban landscape and etching themselves into the collective consciousness of a captivated audience, on a level that lasts a lifetime.
The Sovereign mega reach:
Tokyo advertising agency reach whether you are a local agency or a brand seeking OOH planning services in Japan and the region, our company brings 16 years of expertise to the table. When you think regional media planning professionals- you think Sovereign Ad! We offer a comprehensive solution, allowing you to consolidate your advertising needs under one roof with a single brief. This streamlined approach eliminates the complexities of engaging with multiple local agents who may have limited English proficiency and regional connections. As your billboard ad agency in Japan, we are readily available to provide you with a wide range of advertising choices.
Our company offers an extensive selection of advertising spaces throughout Japan, including OOH, indoor, transit, airport, and digital formats. We meticulously plan your media buy, incorporating various formats such as billboards, wall displays, kiosks, digital signage, as well as advertising opportunities at major airports like Narita, Haneda; Kansai and Chubu. Additionally, we cover metro subway lines, shopping malls, taxi ads, and prominent central business districts (CBD) such as Tokyo Station, Marunouchi, Otemachi, Dotonbori, Shinjuku, Ikebukuro, and Ginza areas. Notably, we have a strong presence at the iconic Shibuya Crossing, featuring numerous digital signs alongside static billboards and some unique rooftop placements. Our expertise extends to providing nationwide coverage and more.
While our specialization lies in out-of-home advertising, we also offer print and TV advertising solutions. Our team comprises native English speakers with extensive international advertising business experience in Japan and the region, ensuring effective and seamless communication. To facilitate local payments, we provide various payment options through major international currency exchange facilities in your preferred local currency.
---