A billboard set of 38 signs to super blitz your Tokyo ad campaign city wide.
Shibuya | Aoyama | West Azabu | Roppongi |
Oh yeah do we got something unique for you! For all you ad agencies looking at Tokyo for an ad campaign which needs to be a easy home run in terms of mass coverage and impressions. This is the biggest network set for Asia we offer.
Presenting the Lucky 7 billboard set. Yes that's the name. No not Lucky 38, but Lucky 7. Why? We do not know. Maybe if you have 38 signs all over you'll have your "lucky 7" success with your product or branding goals.
Yes, how easy is this? You pay once, provide your different creatives and you get 38 signs to go into key areas of Tokyo which delivers some serious mass media for your buck. Many signs are the same square size so creative sizes are narrowed down to just 3 or so. There are a few traditional bulletins. The main areas of Shibuya, Aoyama and Roppongi are key for several demographics such as night life, fashionable shopping area, business and trendsetting/hipster area and other faceted sprinkles on top as well with regards to demographics.
Stop and try to imagine actually buying 38 separate billboards from 1-6 different billboards companies. Does that not sound like lots of work? But even still going through an agency its still lots of work if they are all different sizes, Ha. You bet it is. But because this is the Lucky 7 set, you luckily have a fraction of the work to get a ton of billboard ad spaces for some very wide reaching media.
With tax and agent fee, 1 month will run almost 8.1 million ¥ plus 1 million in printing. It may be cheap or expensive depending on how you look at it. So just a 1 month run will break down to 238,763¥ all in. At 107 per dollar we are talking $2231 per sign. Seems like a deal if we look at it that way. All are illuminated except 2 sites.
Lets look now at the city layout of each sign, most of which are in Shibuya, a key area indeed and one of the most asked for areas from RFP's we get for Tokyo. The numbers on the map are not DEC but general circulation. This network could deliver 5 million plus views potential per day. X 30 days equals 150,000,000 impressions.
We have a media kit with one page per board so we cant put them all here but will show the two common sizes: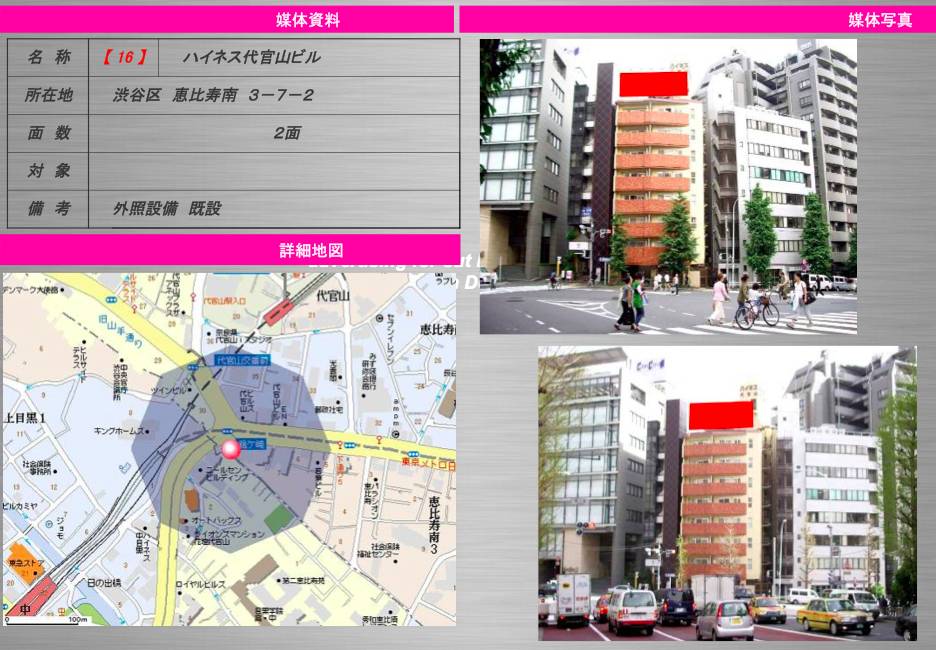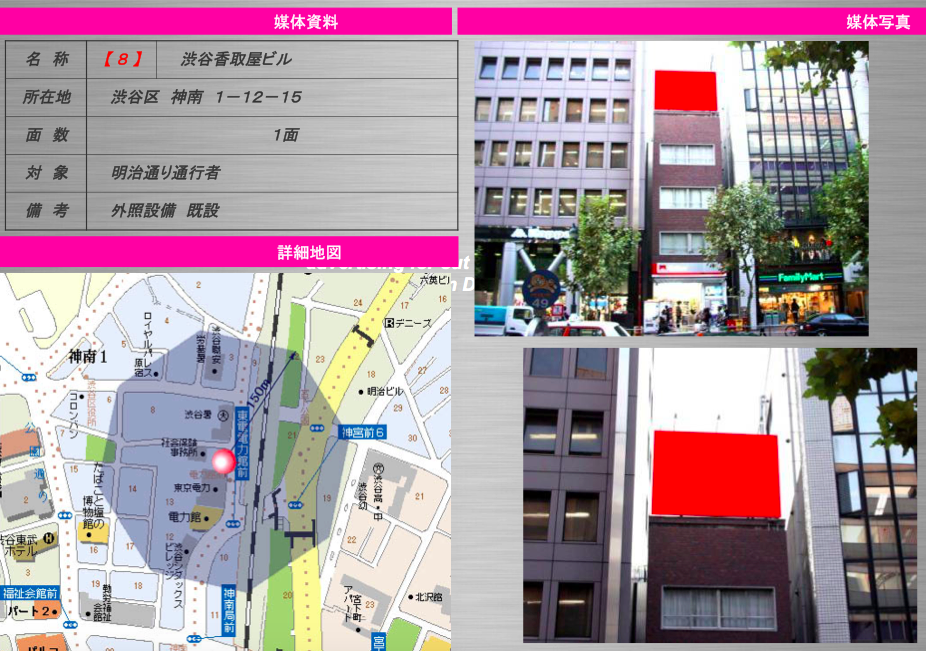 This set would be suitable for branding typically, yet can fit the objective of several types of mass media ad goals.