Bangkok airport rail link advertising | Multi media options to and from BKK airport
Bangkok airport rail link advertising offers great OOH ad spaces which indeed targets a specific demographic. But first, let's put the ARL's train line in perspective. There's 3 major ways to advertise toward travelers and tourists in Bangkok going to and from the major Intl airport (Suvarnabhumi), and that's 1) Billboard on the highway to/from [It's people usually taking a taxi at night which will see this medium] 2) At the airport itself, a) billboards at the entrance outside and b) inside the airport and 3) The new Airport Link train, A.K.A. ARL. Because of Bangkok's hideous traffic, taking this new airport link train makes this transportation mode fast and cheap. From Makkasan station taking the city line, it's just over a $1 and takes 25 minutes. There's also a non stop express train. So, this is now a preferred way of getting to the airport. Unless of course at night people take taxis as the train does not run. Some big travel businesses that have jumped on board this obvious demographic  are HIS and AirAsia with some long term media buys for train wraps, in-train domination and overpass posters.
SovereignAd is offering space on the Bangkok airport rail link advertising formats.
Full body train wrap. Visible from the street level from a distance not just the platforms.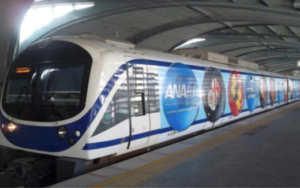 2. Station overhead beams.
3. Station walls.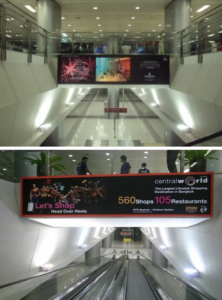 4. Long wall ad space at the airport station.
5. Escalator overhead panels at the airport station.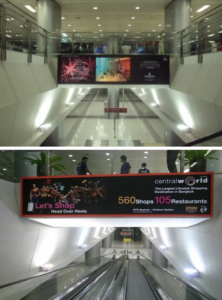 6. Airport station platform guard.

The airport link also offers floor displays, street overhead pass wraps, platform LCD advertising and more.
Get in touch with us for a full proposal.
Mention this blog in your first inquiry and receive 13% off any media buy, and, 1 year buys receive 2 months free ad space!
Offer valid through August 15th 2015.