Omotesando Billboard that is unique… So having a billboard for a month is one thing, but having a billboard + your own store front shop/promotion/event space IS ANOTHER THING ALL TOGETHER!
Get a load of 'THE BILLBOARD ON STEROIDS'… In the heart of Omotoesandos intersection which begins at the "super fashion boutique corridor" of Aoyama Dori.
In all our years in this business, this site is a first, an original, and a great idea. This is how it works;
You can take the store front / event space on the ground floor along with the different variations of the front, front windows space or wall and billboard space above. Illuminated sign, space includes kitchen, water, sink, restrooms. 3 Floors, 17m sqr, 15m sqr and 15m sqr.
Here are some other options doable for signage :
Omotesando Billboard space examples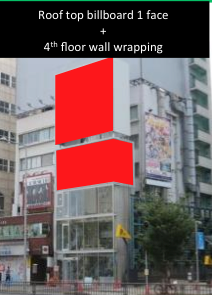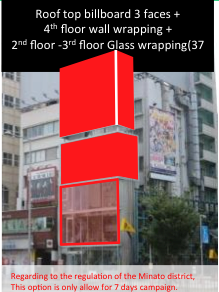 Play did the whole camo thing, and sold their gear in the shop space. How about a Snickers bar while you get a free haircut?
MiniCooper did a good job here with the full board display along with a car showroom. How awesome is that? See the sign, go sit in the car!

If you ever had a call to action campaign, this would be the space to do it in.
1 week campaign with tax and production will run you around 4.1 Million Yen. Also sellable for 2 and 4 weeks for this great Omotesando billboard.
Contact us to book this unique promo and board space.
Why Omotesando Tokyo? Amplifying Class and Fashion in Tokyo
In the heart of Tokyo, Japan, lies the iconic Omotesando intersection—an urban crossroads where style, sophistication, and innovation converge. Standing tall and proud amidst the bustling streets are the captivating billboards, which serve as an influential medium for fashion brands and those seeking to exude class. We explore why billboards at the Omotesando intersection in Tokyo are an invaluable asset for fashion brands, providing them with an unparalleled platform to showcase their identity and captivate the discerning audience.
Unparalleled Visibility
The Omotesando intersection is known as Tokyo's Champs-Élysées, attracting both locals and international visitors alike. Its strategic location and high footfall make it an ideal spot for brands aiming to gain exposure and establish their presence in the world of fashion. Billboards towering over the intersection offer an unparalleled level of visibility, ensuring that brands can captivate the attention of a diverse and fashion-conscious audience.
Reinforcing Brand Identity
For fashion brands with class and a distinctive identity, the Omotesando intersection billboards provide a unique opportunity to showcase their style and values. By leveraging the grandeur of these billboards, brands can create a powerful visual impact, immersing passersby in their aesthetic world and evoking emotions that align with their brand image. The scale, location, and creativity of billboards here lend themselves perfectly to reinforcing a brand's identity and attracting consumers who resonate with their ethos.
Association with Prestige
Omotesando is synonymous with luxury and elegance, drawing fashion enthusiasts from around the globe. By advertising on billboards at this iconic intersection, brands align themselves with this aura of prestige and sophistication. The mere presence of a brand on these billboards elevates its status and positions it among the crème de la crème of the fashion industry. This association with the Omotesando intersection's reputation further enhances a brand's perceived value and allure.
Targeting the Right Audience
Omotesando attracts a diverse range of individuals, including fashion enthusiasts, trendsetters, and high-net-worth individuals. The billboards at this intersection act as a beacon, attracting a specific demographic that appreciates quality, exclusivity, and elegance. Fashion brands with a focus on high-end products can effectively target their desired audience by strategically placing their advertisements on these billboards. The inherent glamour and allure of the Omotesando intersection ensure that the message reaches the right people at the right time.
Inspiring Aspiration and Exploration
Omotesando is not just a shopping district but also a place where people go to seek inspiration and experience new fashion trends. The billboards at this intersection serve as gateways to the world of fashion, captivating onlookers and encouraging them to explore the brands being showcased. By using billboards as their canvas, fashion brands can ignite curiosity, spark desire, and inspire individuals to embark on a sartorial journey that aligns with their personal style.
Conclusion
The billboards at the Omotesando intersection in Tokyo provide an unparalleled platform for fashion brands aiming to exude class and sophistication. With their strategic visibility, ability to reinforce brand identity, association with prestige, targeted audience reach, and inspirational appeal, these billboards become invaluable assets for brands seeking to captivate the discerning fashion-conscious audience. By harnessing the power of this iconic intersection, fashion brands can make an indelible mark and create lasting impressions in the world of style and elegance.